A set of medals belonging to an heroic general who fought Napoleon at Waterloo have smashed their estimate after selling at auction for £7,800.
The four individual honours, set in a single "unique" bar brooch, belonged to former British Army commander Lieutenant-General Rowland Hill, who was nicknamed "Daddy Hill" for the care he took over his men.
The "astonishing find" had been estimated to fetch between £1,000-£2,000, but almost quadrupled that forecast when they went under the hammer at Derbyshire auctioneer Hansons on Tuesday.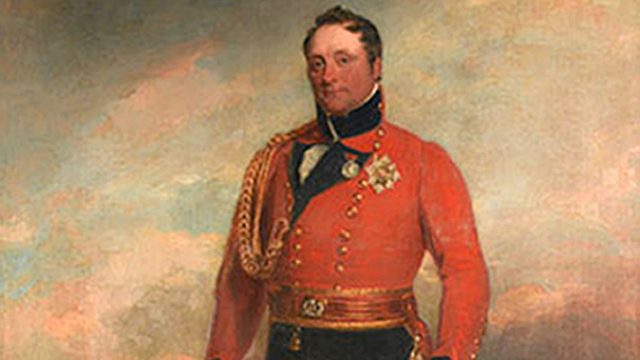 A veteran of the Peninsula War against the French, the general later fought at Waterloo in 1815 as the Allied powers under the command of the Duke of Wellington stopped a resurgent Napoleon's march across the Low Countries.
Hill, born at Hawkstone Hall in Shropshire and educated at The King's School, Chester, nearly had his military career cut short when he was struck on the head by a musket ball on campaign in Egypt in 1801.
At Waterloo he led a charge at the end of the battle against Napoleon's feared Imperial Guard, and had been thought killed in the melee.
But he survived to rise to the highest ranks and, in 1828, succeeded Wellington as commander-in-chief of the British Army.
The general and former MP for Shrewsbury died at Hardwicke Grange, Hadnall, Shropshire, in 1842, aged 70.
During his career, Hill was awarded a clutch of medals; the Knight Grand Cross of the Order of the Bath; the Knight Grand Cross of the Royal Guelphic Order (Hanoverian); the Grand Cross of the Order of the Tower and the Sword (Portugal's highest award) and the Peninsular Cross.
The brooch was commissioned from a jeweller by the general as a unique setting for his honours.
Charles Hanson, auction house owner, said "the rarity and historical importance of this item cannot be overstated," describing the medals as an "astonishing find".
"Lt Gen Hill was a hugely respected and successful army officer," he went on.
"A man who never married, he devoted his life to serving his country. He led armies of up to 30,000 men in some of the most important battles of the 1800s in Egypt, Spain, Portugal and France.
"He inevitably had brushes with death. At the Battle of Waterloo, where Hill commanded the II Corps, he was lost in the melee and feared dead but escaped unscathed.
"He wrote to his sister, 'I verily believe there never was so tremendous a battle fought as that at Waterloo'."